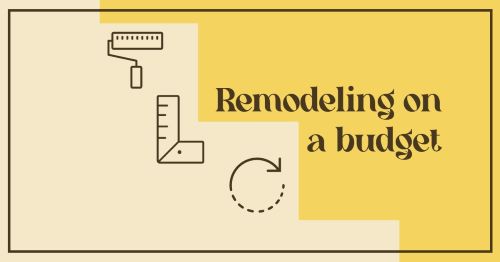 You may want to start home renovations to increase your home's value in preparation of selling the property. Or, you may want to upgrade your space to make it more comfortable.
Regardless of your plans, you can use these tips and tricks for remodeling on a budget:
Hang stunning new curtains or blinds
It's a great idea to replace window blinds occasionally. Give the window space a refreshed feel by replacing old blinds with new ones.
Curtains can shape the aesthetic of a room. Consider adding blackout curtains to add a touch of class while keeping out extra light.
If you're aiming for a lighter aesthetic, sheer curtains are the way to go. Sheer curtains can filter light without overwhelming the space.
Remodel kitchen cabinets
A fresh coat of paint will go a long way to spruce up aging cabinets. Neutral tones will give your cabinets a refreshed vibe, while brighter tones will give a sense of energy.
Want to take remodeling your cabinet doors a step further? Consider adding glass doors. This change can give your kitchen living space a more open feel.
Hang stylish shutters
Adding shutters to a window will give a chic feel and also help to block out extra light. Window shutters can also reduce the amount of external noise entering the home.
Shutters help with insulation as well. They can help with regulating thermal temperature. When it's cold outside, shutters can help block some cold wind from seeping into your house.
Install beautiful crown molding
Cracks and crevices can start to form as a home grows older. Adding crown molding can help to cover up these flaws. If you're into DIY projects, adding crown molding is perfect for you!
Crown modelings add a sense of dimension and character to your space. It will help to enhance the overall design and pull together the appearance of the room.
Replace or revamp the old front door
Quality exterior paint is an affordable key to giving your older doors a renewed freshness.
Beyond just aesthetics, you might consider additional front door upgrades. If your old door isn't secure anymore, it may be time to replace the unit. Find stylish options at your local home improvement store.
Refresh internal doors
Noticing scratches on your closet doors? Internal doors can accumulate wear and tear over the years. For a simple refresher, add a new layer of paint.
If the damage is more advanced, consider replacing the door. This replacement will be more costly than a new paint job, but will improve the appearance of the space.
Replacing traditional interior doors with stylish alternatives like sliding barn doors or shelf partitions is another option for upgrading the space without breaking the bank.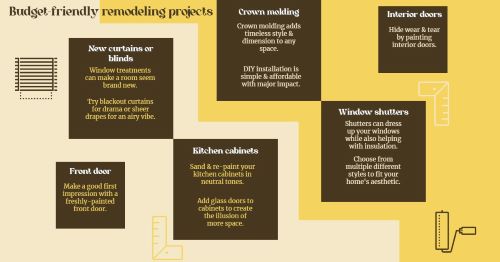 There are many minimal cost home remodeling ideas. With the right tools and commitment, you can completely refresh your space.